with Jenni Antonicic
6pm – 7pm
Yoga Nidra, or yogic sleep, is a guided meditation that allows you to slow down mentally and feel better physically.  Since this is a guided meditation  (versus a silent mediation) practice, it makes it a little easier to keep your mind from wondering and less agitation occurs as the teacher takes you through points of focus and lays the groundwork for letting go and relaxing.
No experience necessary.  This is a regularly priced yoga class that happens every 2nd Sunday of the month.
Sunday, June 9th 
1-3pm
with Bethany Kibblesmith
No matter where you are in your asana practice, backbends are an invigorating, complex, and FUN part of the physical yoga practice.  Backbending can be particularly challenging because of the way that our day to day lifestyle so consistently forces our bodies to hunch forward—computer work, driving, and even habitual slouching, all contribute to a body that is almost continually forward folded.
Backbending forces us out of our habits, and sends healthy hormones coursing through our veins. As well, backbends done well can build strength and flexibility simultaneously!
Backbends are sometimes a "fear pose" for people—the rush of adrenal can be overwhelming, or the fears of new injury or worsening an old one might pop up. With proper preparation, modifications, and a balance of lengthening and strengthening, you too can expand your backbending practice and approach new postures in a safe way, with individualized attention, props, and modifications.
All levels welcome.  Workshop is $30.
AutoPay Members receive 10% off.
Saturday, June 22nd
with YFAB & Buddha Belly Kids Yoga
2pm – 4pm
Join us with your kiddos for a fun time at Yoga For All Beings on Saturday, June 22nd from 2-4PM.  We'll have face painting, balloon creations and snacks from 2-3PM and a family yoga class from 3-4PM hosted by our friends at Buddha Belly Kids Yoga.  This yoga class is designed for families with children 2-8 years, however younger and older siblings are most welcome!
Cost is $20 per family.  Please preregister online under the name of the grown up (or one of the grown ups) attending the event.
Please note that our yoga studio is on the 3rd floor of a walk up (with no elevator).  For this reason, we recommend leaving strollers at home or bringing one that you can easily carry up the stairs.  🙂
Friday, August 16th
6-7pm
with Danielle Dickinson & Justin Peters
This is a regularly priced yoga class with live music.  The music in class will match the energy and pace of class, a gentle and slow paced vinyasa flow.  All levels welcome.
Saturday, September 7th
2-4pm
with Jessica Noble
Join Jessica Noble for a workshop that will help you move into exhilarating arm balances like crow, grasshopper, flying lizard and more. By building a fire within and breaking down the barriers, we'll find the strength we need in order to fly. Additionally, we'll explore ways to incorporate these shapes into our flows–creating more seamless transitions in our practice.
This workshop is for either beginners who are new to arm balancing or anyone who wants to fine-tune flying postures that might be familiar.
Workshop is $30. AutoPay Members receive 10% off.
Saturday, Oct 5th
2-3:30pm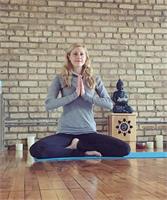 with Danielle Dickinson
Based on the healing technique of T.R.E. (Trauma and Tension Releasing Exercises) from Dr. David Berceli this unique yoga class will incorporate your typical vinyasa flow with a specific focus on fatiguing the leg muscles and lengthening the psoas.  After a 60 minute strong, all levels yoga class, we'll move into positions that will allow space for neurogenic tremoring.  Class will end with a deeply relaxing savasana (final supine meditation).
To learn more about TRE and neurogenic tremoring, visit 
www.traumaprevention.com
.  Danielle Dickinson is a certified and experienced TRE facilitator and yoga teacher with a passion for trauma healing and trauma-sensitive practices.
This class is suitable for all levels.  Cost is $25.  Auto Pay Members receive 10% off.
Date & Time TBD
with Jenni Antonicic
The cakra system is a an ancient model used to describe physical, interpersonal, spiritual and metaphysical experiences. Adepts have developed many practices to cultivate and direct the energy that cakras organize, aimed at helping us manifest our highest potential. Jenni will lead a gentle asana practice meant to prepare the body for comfortable stillness and to calibrate the attention towards subtle body perception. Two following practices to charge and facilitate the efficient flow of energy will incorporate mudras, vocal sound, affirmations and visualization. The session will finish with a restful period to fully integrate the experience. Students will also leave with techniques to incorporate into their home practices.
Workshop is $30.  AutoPay Members receive 10% off.
Date & Time TBD

with Melissa Kirschner
Join Melissa for an afternoon of relaxation and restoration. This 2 hour extended class will begin with making personal weighted eye pillows to enhance your restorative yoga experience. We will provide the pillow case, filling, and different dried aromatics, such as lavender and rosemary, to customize your pillow. We'll then move into an extended restorative practice, giving our mind and body the opportunity to slow down and relax.
All are welcome and no experience is required.
Class is $45 and this includes the price of your (take home) eye pillow.
AutoPay Members receive 10% off.
Next Program Starts January 2020
2 Wednesday Evenings/Month
Every Other Weekend
Join us for our next round of Yoga Alliance certified Teacher Training at YFAB.  Our well rounded training covers everything from postures and sequencing to meditation, breathing and other yogic practices and principals like chakras, bandhas, gunas, the yoga sutras, ayurveda and much more!  Yoga For All Beings teacher trainees learn how to teach vinyasa style yoga classes for varying levels of students and also touches on other styles of yoga like yin yoga, restorative yoga, prenatal yoga, yoga nidra, trauma sensitive yoga, neurogenic yoga, and yoga for special populations.  All graduates from our 200 Hour YTT program will be officially certified yoga teachers and they will also be eligible to register with the accredited Yoga Alliance (if they choose to do so).  Learn more about our teacher training program here.